400+ senior supply chain executives across retail, brands and providers meet at the D3 Retail Summit to collaborate and find ways to solve some of the pertinent issues in retail. The format is very collaborative and conducive to building meaningful relationships.

Key topics include:

State of the Consumer-Centric Supply Chain

Network Redesign to Accommodate Omnichannel Growth

Demand Planning & Forecasting

Inventory Optimization and Visibility

Omnichannel Fulfilment & Warehouse Automation

Last Mile Delivery

Supplier Collaboration and VMI
Pre-order the brochure on the right for full speaker line-up>>

Supply Chain Trailblazers that Took to the Stage in 2017 Included: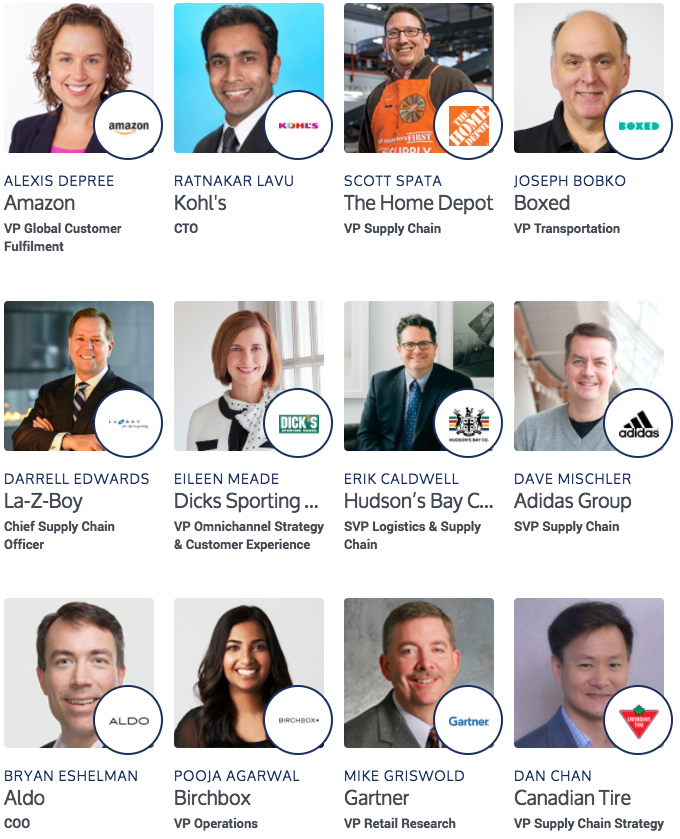 Pre-order the brochure on the right for full speaker line-up>>


5 Reasons Why D3 is the Place to Be:
40 VP and C-Level speakers that are changing the game of supply chain: Hear tangible insights from the likes of Amazon, Kohl's, Nike, Dick's, Home Depot and more on how they approach their planning and decision-making
Bringing the retail community together: The only place to meet and learn about key opportunities in supply chain planning and execution: from demand forecasting to the last mile
An inspiring agenda: As you undergo the omnichannel evolution we will cover 10 key themes and provide case studies from peers to help direct your journey through collaborative discussion
400+ in attendance: If you are looking for one meeting to attend in 2017, the D3 Retail Summit will give you the most senior networking opportunities possible. We create a collaborative setting and a community to advance your knowledge and networking because no one person has all the answers
Don't take our word for it, see what others have to say: In the brochure, are some reviews from execs that attended last year. See what they have to say.

Would you like to get involved? I'd love to hear from you. Contact me on the details below:
eft is part of Eyefortransport Ltd. Registered in England and Wales no. 09823962. Registered address 7-9 Fashion Street, London, E1 6PX, UK | Terms and conditions
Engage with Heavyweights in Retail Supply Chain at the D3: Dynamic Distribution Disruption Retail Summit (May 10-11, New York)
Pre-order your Brochure for D3: Dynamic Distribution Disruption – Retail Summit 2018

May 10-11, 2018, New York