This Q&A explores the future supply chain landscape, the biggest challenges facing the industry and where opportunities for growth lie.
Plus! Hear the respondents speak live. All of them will be at the 3PL Summit and CSCO Forum in Chicago this June 14-16.
Find out more and get the event brochure on the right >>>>>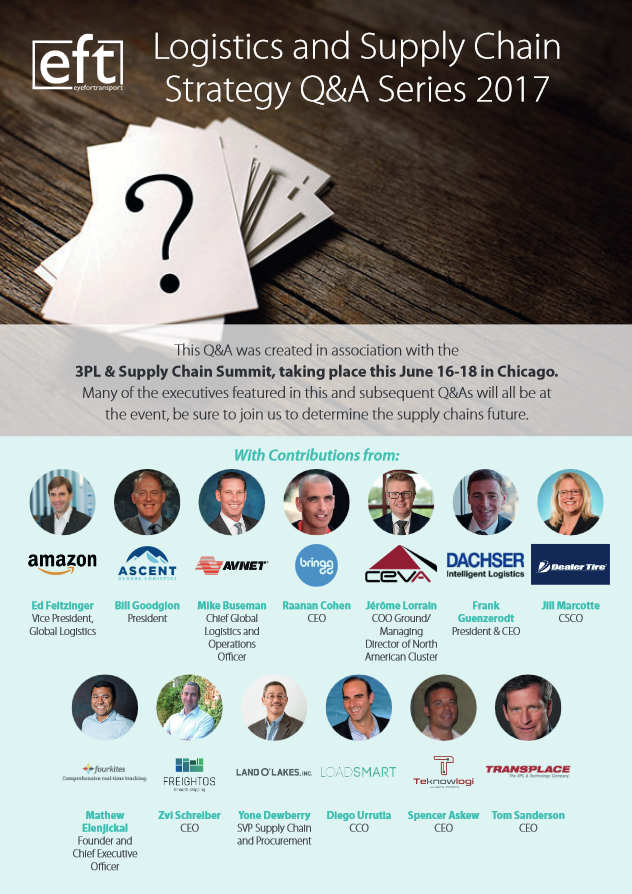 Speakers confirmed to share their insight in 2017
Anthony Levandowski, Co-Founder, Otto
Ed Feitzinger, VP Global Logistics, Amazon
Steve Sensing, President, Global Supply Chain Solutions, Ryder System, Inc
Mehran Ravanpay - VP, Global Supply Chain Logistics, Schneider Electric
Thomas Schmitt, Member of the Board of Management (Contract Logistics/SCM), Schenker AG
Joanne Wright, VP IBM Supply Chain, IBM
Brad Jacobs, CEO, XPO
Mike Buseman, Chief Global Logistics & Operations Officer, Avnet
Andrew Clarke, CFO, H. Robinson
Ryan Miller, VP Global Ecommerce Strategy, Rakuten
Jerome Lorrain, COO, Global Ground and Managing Director, North America, CEVA Logistics
Darrell Edwards, Senior Vice President and Chief Supply Chain Officer, La-Z-Boy
Kerry Byrne, President, Total Quality Logistics
Enter your details on the right hand side to get the 3PL Summit brochure >>>>>
Company registered number 09823962 7-9 Fashion Street, London, E1 6PX, UK
UK VAT number: GB 225 5706 14 | Terms and conditions

Fill in the form below to get your copy of the 3PL Summit and CSCO Forum brochure
Enter your details below to get your copy of the brochure
What does the future supply chain landscape look like?